Filter for the top of the tank with magnetic core (permanent magnet)
70% of hydraulic system failures are due to particulate contamination.
Particulate filtration associated with a magnetic core will allow high cleanliness classes to be obtained.
AN EFFICIENT AND ECONOMICAL SOLUTION

Magnetic filters are used to filter metallic contamination and the low magnetic particles transported by the various types of fluids.
Most filters at the tank top have a threshold of 10 µm since:
A finer threshold would incur excessive initial costs.
A finer threshold means additional direct costs:

the filter element is more expensive
it must be changed more frequently
Yet, new hydraulic systems using proportional hydraulic components would require lower thresholds and higher cleanliness classes.
This is what the magnetic component allows: installed on a standard filter 10 µm Beta 1000, it will stop metal particles up to a size of 1 µm without impacting the life of the element or the cost incurred.
The magnetic core removes a large quantity of ferrous particles and improves the removal capacity of the filter.
The analysis of metal particles captured by the magnet can provide valuable information on the condition of the system: housed in the cover of the filter housing, it is easy to remove to check and clean it.
très grande efficacité de filtration
6 FILTER HOUSING SIZES: TEF55 , 70, 120, 210, 310 AND 320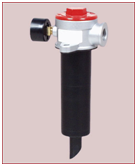 WHY USE A FILTER AT THE TANK TOP WITH A MAGNETIC CORE?

Filters at the tank top with a magnetic core can be used for mobile and industrial applications:
Available with all types of filtration thresholds
Available for all filter housing sizes
The life of the filter element is 4 to 5 times longer
The magnet inside the filter housing can be cleaned and re-used
Options available: Visual and/or electric visual indicators, bypass valve, all stainless steel filter element, optional aluminium or cast iron filter housing head, and permanent magnet.
Receive free advice
We deliver our best filtration equipment